Learn online from the comfort of your own home with Canadian Tourism College!
As of May 2021 we are continuing to offer our programs
in a virtual classroom environment
New students will begin their classes online and may progress to on-campus learning when it is deemed safe to do so by health officials and the government of Canada.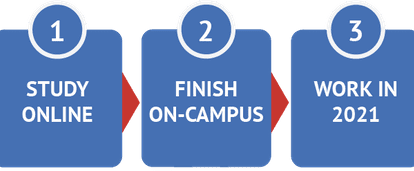 ---
Online learning FAQ
How is online learning conducted?
To study online with CTC, all you need is a laptop or home computer and an internet connection. We are currently using  Zoom, Canvas and Google Classroom platforms to conduct our classes, all of which are easy to install and set up. Our faculty is here to support you should you need any guidance in getting started. You will receive all the information you need to access our classes once you are enrolled.

What is included in tuition?
You will receive the same high level of instruction as you would if you were to attend classes on-campus. Our instructors are experienced industry experts who are passionate about what they teach.
Click here to learn more about our instructors.
You will receive digital PDF files of all required manuals for your courses. Once you are enrolled and ready to start, you will be given online and digital access to everything you need to get started.
What are the advantages of taking classes online?
Get started on your education now so you can move forward with your career.
Connect with other people and form new friendships. We have found that our students have become a great support system for one another during this time. Online classes offer not only an educational experience but also an opportunity to connect with other people.
Improve time management skills and develop self-discipline.
No commute! Stay in and enjoy classes from the safety and comfort of your own home.
When will in-class instruction resume?
Our number one priority is the health and safety of our students and staff. We have been following the guidelines set by health officials which have required us to close the doors to our campus and offer courses virtually. We are continuing to offer our programs online through spring and summer 2021, but the situation is constantly evolving and we will provide students with any updates in a timely manner.
We are very much looking forward to welcoming students back on-campus again when it is safe to do so!
Are there scholarships or tuition credits available? How do I get started?

Yes! We are giving back to the community! We have scholarships available up to $3,000, depending on the program. Request more information to learn more about our scholarship availability and how to get started.
When do classes start?
See below for the latest updates on program start dates.
| Program | June 2021 | July 2021 | August 2021 | September 2021 |
| --- | --- | --- | --- | --- |
| Travel & Tourism Business Management Program | June 14 | July 5 or 20 | – | Sep 13 or 28 |
| Hospitality & Resort Business Management Program | June 11 | July 5 or 20 | Aug 6 | Sep 13 or 28 |
| Hospitality Certificate | – | – | – | Sep 13 |
| Tourism Certificate | – | – | – | Sep 28 |
| Flight Attendant Program | – | July 5 | – | Sep 27 |
| | | | | |
85% of our current students are either satisfied or highly satisfied with our online classes.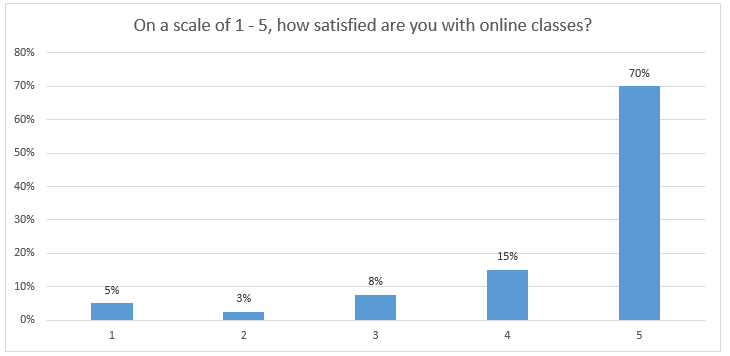 Scale: 1: Highly Dissatisfied | 3: Neutral | 5: Highly Satisfied
---
Testimonials
Current student, Clara J.
What are you enjoying most about attending classes online?
I'm thankful for the opportunity to see so many positive faces and interact with a group of people who share similar professional goals.
Do you think there are any advantages to attending virtual classes? If so, what are they?
Yes. I live locally to the Surrey Campus, but I think the online platform created an opportunity for some of my peers who live across Canada to join. Additionally, it saves me time and gas money as I don't have to commute. In a fast advancing society, online interviews, meetings, classes are becoming more prevalent; attending classes online are a great way to become comfortable with professional virtual interactions.
Current student, Irene P.
What are you enjoying most about attending classes online?
I enjoy the most the fact that online classes allow for a virtual connection among students and instructors, we're in a team setting we all help one another.
Do you think there are any advantages to attending virtual classes? If so, what are they?
Yes, I believe that the advantages to attending virtual class are the fact that students can plan their time around their work and personal schedule. Additionally, online learning improves students' time management skills.
---
Virtual Class Content
Check out this virtual presentation by Travel & Tourism instructor Jeff Thomson, using Loom as a whiteboard for his lesson.
See what our Tourism students have been up to in their online class!
Students were asked to create a full itinerary for a short tour, come up with the costs, and figure out the price for the tour after markup. They could pick any attraction in the world and video themselves as a "site guide", and were allowed to wear an article of clothing which might represent the area or attraction. Check out this video for a presentation by Kim, as she takes us though a Puerto Prinsesa Underground River Tour.